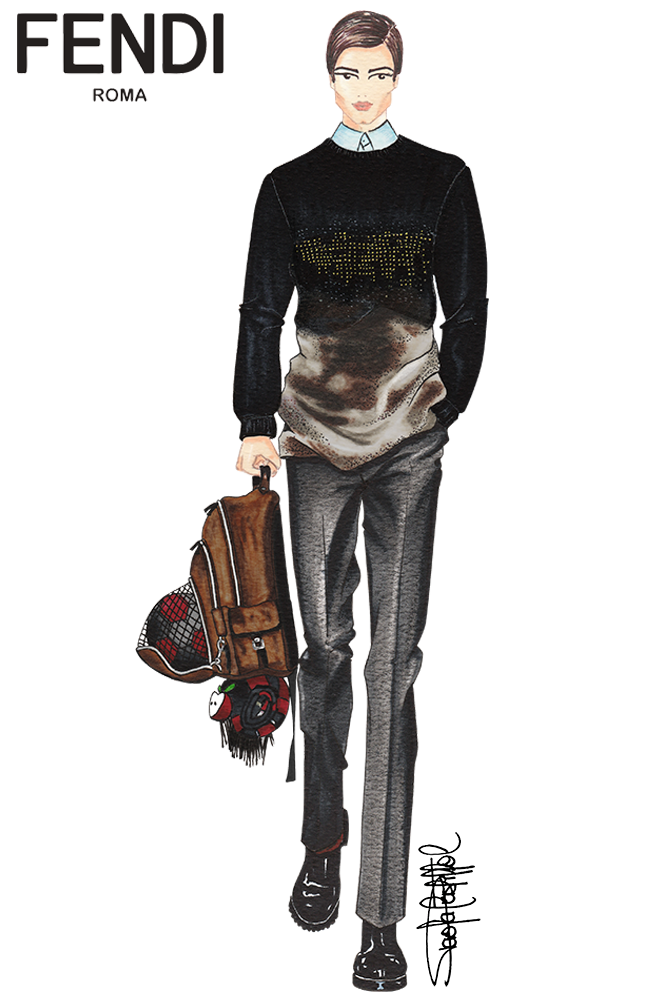 Creado el February 10, 2015 por Paola Castillo
Check out the latest Fendi menswear trends for F/W 2015-16
Nothing better than a careful selection of the most relevant images of Fendi menswear's fashion shows to identify what is going to set trends for the next fall winter 2015-16 season.
January 2015 was full of men's fashion events. In the first place with London Collections from 10th to 12nd January; then with the 87th edition of "Pitti Immagine Uomo" fair in Florence, Italy from 13th to 16th of January; after that  the "Milano Moda Uomo" fashion show from 17th to 20th of January and finally  from 21st to 25th January  the "Paris Men's Fashion Week".
My analysis of the most outstanding fashion shows of this season would be as follows:
Karl Lagerfeld, the creative director of Fendi presented at Milano Fashion Week an exquisite and refined menswear collection, where was possible achieved to reinterpret the corduroy stripes using various treatments, effects and finishes; for example, through luxurious fabrics worked laser wherein each line is individually heat set and also by using special treatments on the sheepskin (material used also in the collections of JW Anderson and Burberry Prorsum).
The Fendi collection also stand out for: the 3D designs which were laser cut and that imitate pinstripes; the leathers processing which appears to chamois; the reversible coats made leather on one side and covered of skin on the other side; the pants and jackets made by fabric patchwork in contrasting colors, the striped sweatshirt with mohair effect and embossed printing, the perforated sweater absolutely handmade and constructed by tweed fabric and skin and of course, the jacket with monster design made by leather patchwork.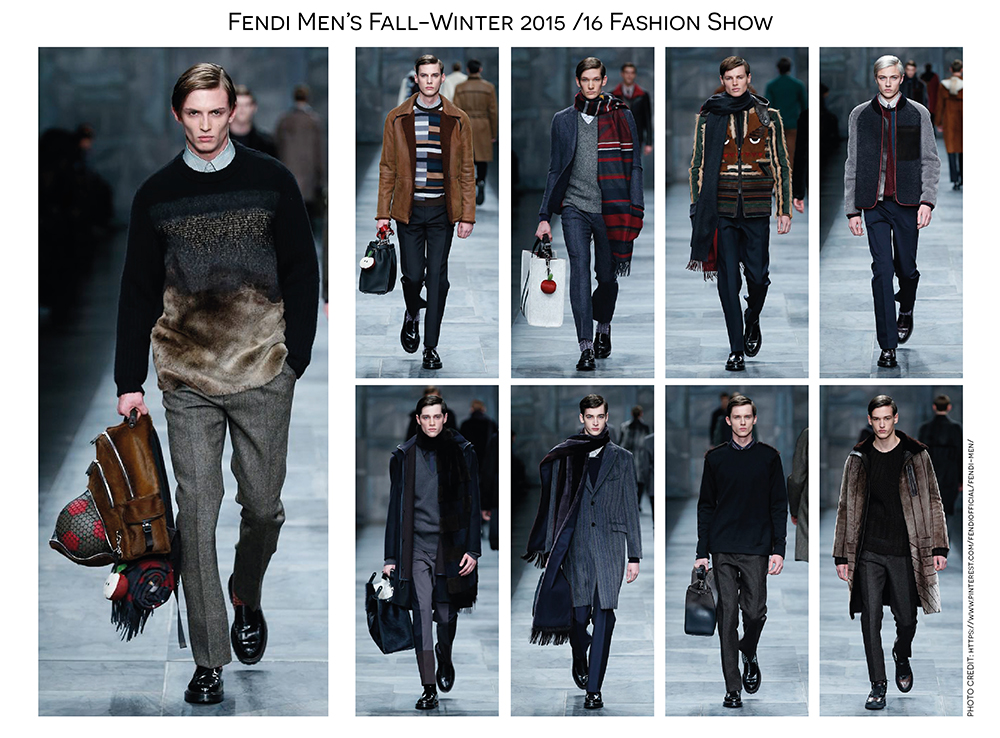 The accessories also played an important role in the Fendi's runway, starting with the leather backpacks equipped with a special pocket for football ball, the shopper bags in felt, the long scarves with large pockets and woven stripes and the moccasins with leather inserts. As for small accessories and keychains such as apples made in sheepskin, the mini hairy bag with the smile design and the watch with monster design, reflect the funny and ironic sense of brand.
 I think this collection is perfect, not just for good taste, elegance and balance that reflects but also because it offers a rich amount of handcrafted items and admirable technological processes, with a nice palette of autumn colors and velvety effects in many of the materials used, perfect for the season. I really think the gateway Fendi menswear is simply fantastic.
Finally, I will show you some pictures with development of fashion illustrations:
Have a nice day!