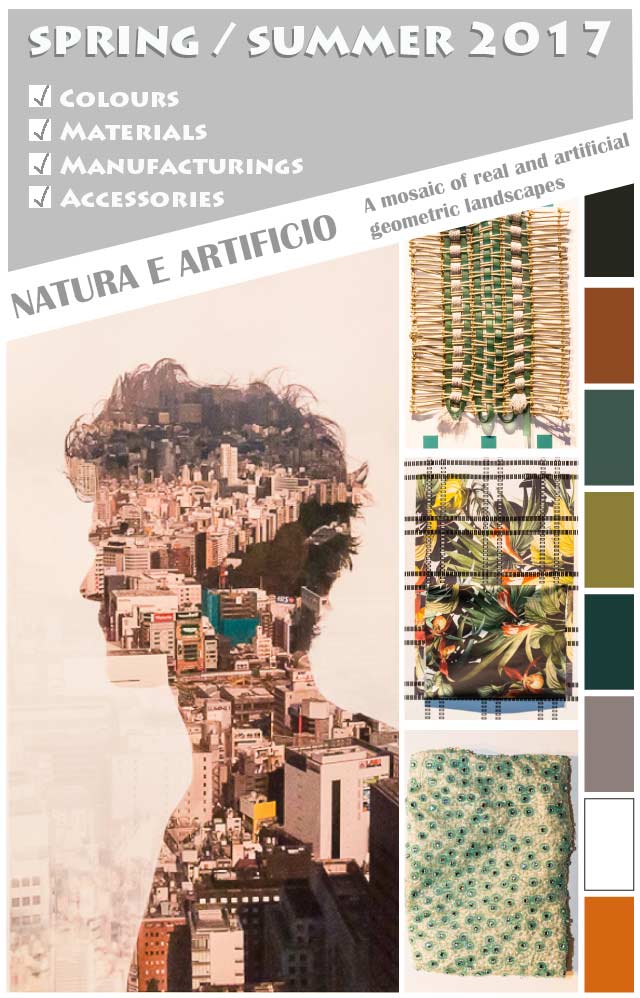 Creado el April 8, 2016 por Paola Castillo
Fabric trends for Spring Summer 2017 (Second Part)
A visual interpretation of fabric trends for Spring Summer 2017 exposed at the Milano Unica fair. It's about fabrics, colors, accessories and manufacturings.
This report is the result of careful research done by Milano Unica (the most important italian textile fair that present collections of fabrics and accessories for clothing). A few days ago we talked about the first theme ABISSI: Depth as an inspiration. Today, we will complement our information about fabric trends for Spring Summer 2017 and we will analyze the second theme called NATURA E ARTIFICIO: A mosaic of real and artificial geometric landscapes. Each theme is full of news and different concepts, so I divided them into four different articles and for each one I made some personal Moodboards to facilitate interpretation of the concepts. So, let's start!
Fabric trends for Spring Summer 2017:
A bird's-eye view, an aerial mapping of different areas in the world, showing geometric patterns of natural landscapes with well-defined outlines, cut off by human interventions or rather by urban interruptions and concrete breaks. What is artificial is as real as the natural.
Between truth and forgery, between the immensity of the sea and megacities, there is a complicity ruled by human passion.
COLORS:
Green and grey contrast in color ranges, TURBULENCE and CHATEAU GRAY describe urban elements as well as PARASAILING, GRANITE GREEN and PALM describe the natural sphere. Shades of orange break this symphony.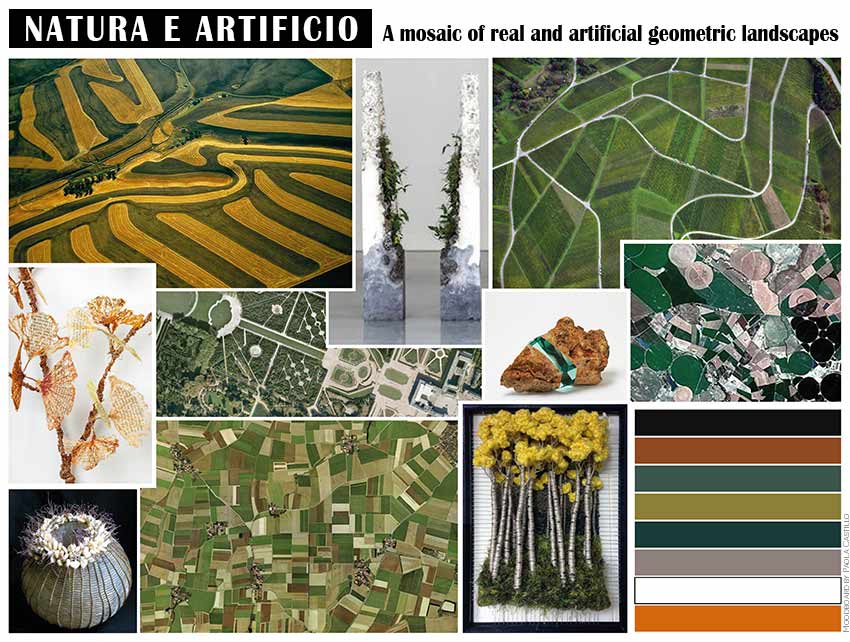 MATERIALS:
They are natural, delicate and ethereal, enhanced with laser effects and rubberising.
Prints are blended and represent earth-colored elements.
Camouflage has an urban character: A more urban nature defined by hi-tech colors whereas a new concept of printing and jacquard is achieved by using terrestrial maps taken from above.
Even a classic like tweed is presented in the urban version by a chameleon-like look created from a mix of different materials.
Jersey will be doubled and open weave with an embossed effect and will create new geometric patterns.
In order to express the idea of nature and artifice, foliage elements or animal prints will be overlapped on python-printed eco-leather.
ACCESSORIES:
3D effects appear both on buttons, glossy and shimmering, in tones of urban grey mixed with organic hues and on ribbons, which presents embossings and crusts made of different materials.
Silicone is mixed with canvas and raffia to create objects such as zips and buckles.
The silicone-made ribbon with rough rubber is one of the most innovative element in this trend.
Labelling reflects the use of the materials featuring in the «Nature and Artifice» theme. Therefore, they will be a combination of elements taken from vegetation and hi-tech world.
MANUFACTURINGS:
The natural textures are reinterpreted by means of special twists.
Mesh inspires a new idea of print in which natural elements seem to be trapped in, whereas pixel patterns appear artificial.
Lace is laminated and presents embossed details, a real novelty in the field of fabric.
Gauzes are dyed and doubled, as tropical prints undergo overlappings.
Porphyry in particular and stone more generally, become a material wildcard for both fabric and accessories.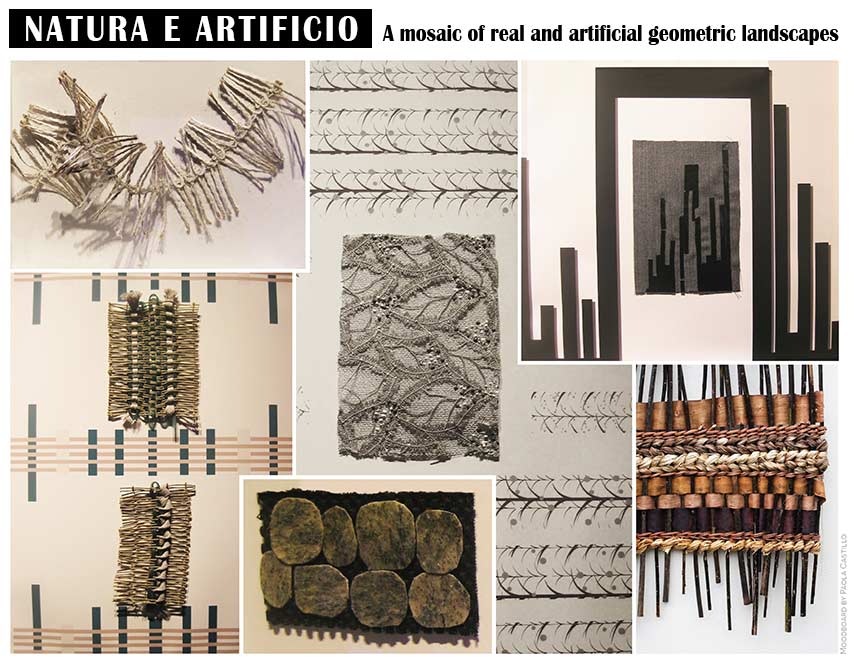 What do you think about this theme?  Do you like as a source of inspiration for the next upcoming Spring/Summer 2017 season? Do you like the colors palette? It seems to me a bit dreary for the season, but I think by interpretation of the theme is okay. Very interesting new developments in the tissues with the mix of materials, the combination of prints, innovative proposals in textile treatments and the characteristics of accessories, which together are able to offer many options and ideas for our collections, don't you think so?  Share your opinion in the comments!
To go directly to the reading and the analysis of the third theme visit:  PSICO BIT: A hallucinatory trip into arithmetic progression.
Do you like this post about fabric trends for Spring Summer 2017? If yes, please share. This would be the best way to repay my time and effort dedicated to the research, writing and graphics of the post. 🙂
Thank you and have a nice day!!!
Salva
Salva
Salva
Salva
Salva
Salva
Salva
Salva
Salva
Salva
Salva
Salva