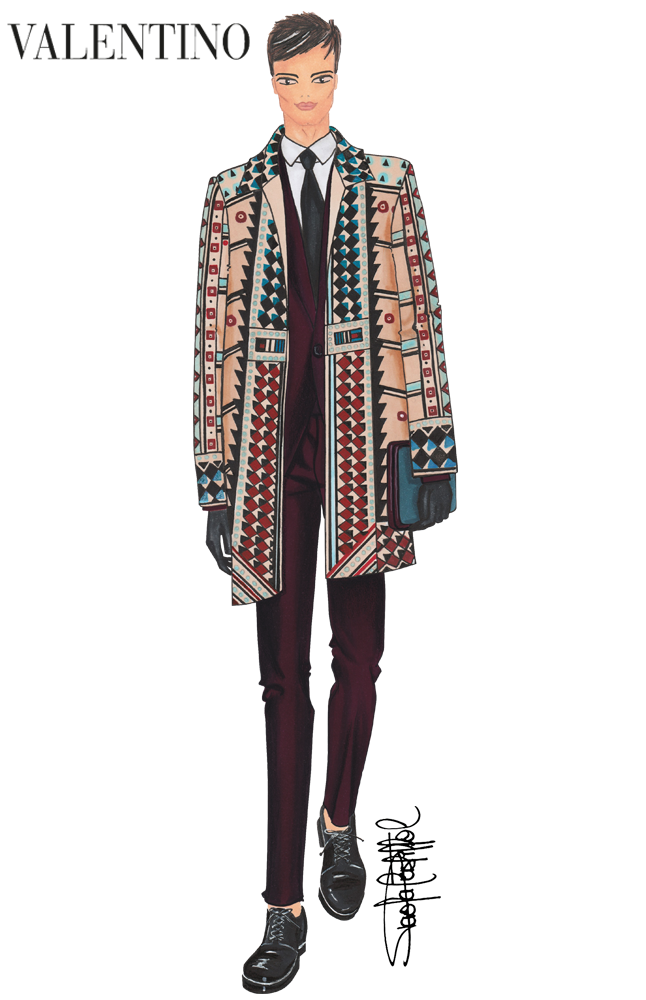 Creado el November 9, 2015 por Paola Castillo
Maison Valentino has created beautiful wearable artworks
Maria Grazia Chiuri and Pierpaolo Piccioli the Creative Directors of Maison Valentino have created for fall/winter 2015-16,  a menswear collection characterized by colorful geometric shapes.
The collaboration between the Brand Valentino and the Australian artist Esther Stewart is done through a sophisticated collection based on aesthetics of Color Block.
The compositions of this young artist are characterized by the elegant balance of shapes and colors. To describe her works Esther says, «My work is clearly influenced by interior architecture domestic's places». Her unique style has evolved after her undergraduate when she was awarded a solo exhibition in 2010. The interest in her creations is continually growing on the world art scene thanks to her ability to improve the optical effects in her artworks and the popularity gained by the collaboration with the brand Valentino. Regarding this aspect Esther says: «For any artist it's a privilege to have your work seen by so many people, to work with someone a such incredible craftsmanship was really inspiring, see my works adapted into something that the body is within it».
Here the artist together with some of her works:

Now, let us know why her talent is conquering so many people:
Valentino men's Collection – Fall/Winter 2015-16
The looks of fashion show are characterized by the superposition of clothing. Coats above of long jackets with classic cuts, accompanied with skinny trousers. Hooded parka over Shetland wool cardigans decorated with graphic patterns. Jackets and sweaters above of white shirts and black ties. Taking as reference the geometric patterns printed on coats, jackets and sweaters, we also find the color blocks represented by leather inserts shaped pocket on some sweaters.
The romanticism of collection is represented by embroideries of planets and butterflies and by the flowers that decorating the eyelets on lapels in some jackets and coats, as well as hawks and owls decorating backpacks.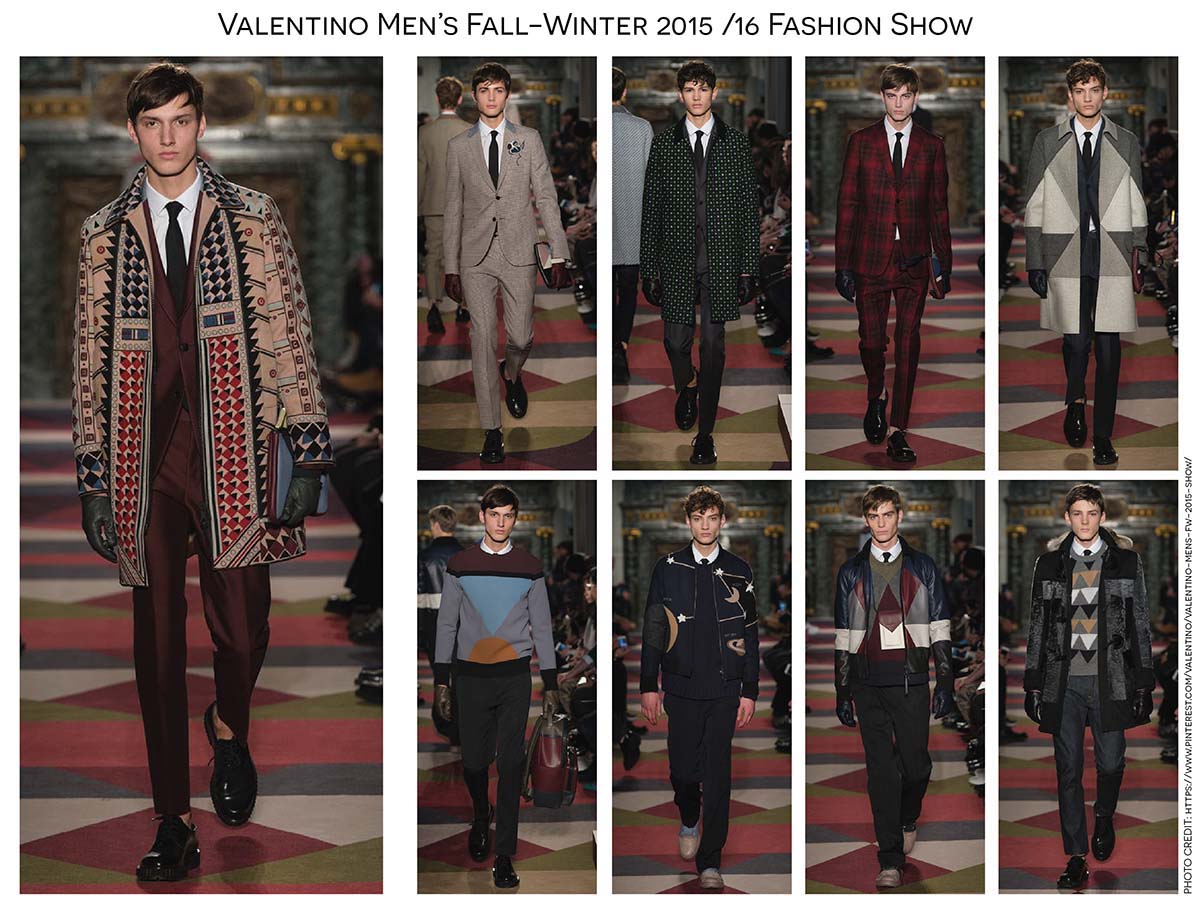 The color palette from Maison Valentino is composed by black, brown, beige, blue, red and burgundy mixed with various shades of gray and green.
Regarding the accessories, there are the lace-up shoes with contrast blocks. Leather backpacks, card holders and clutch in patchwork style and inspiring by geometric forms. Camouflage prints, embroidered butterflies and inlays shaped hawk are present in backpacks and tote bags. Are essential the leather gloves.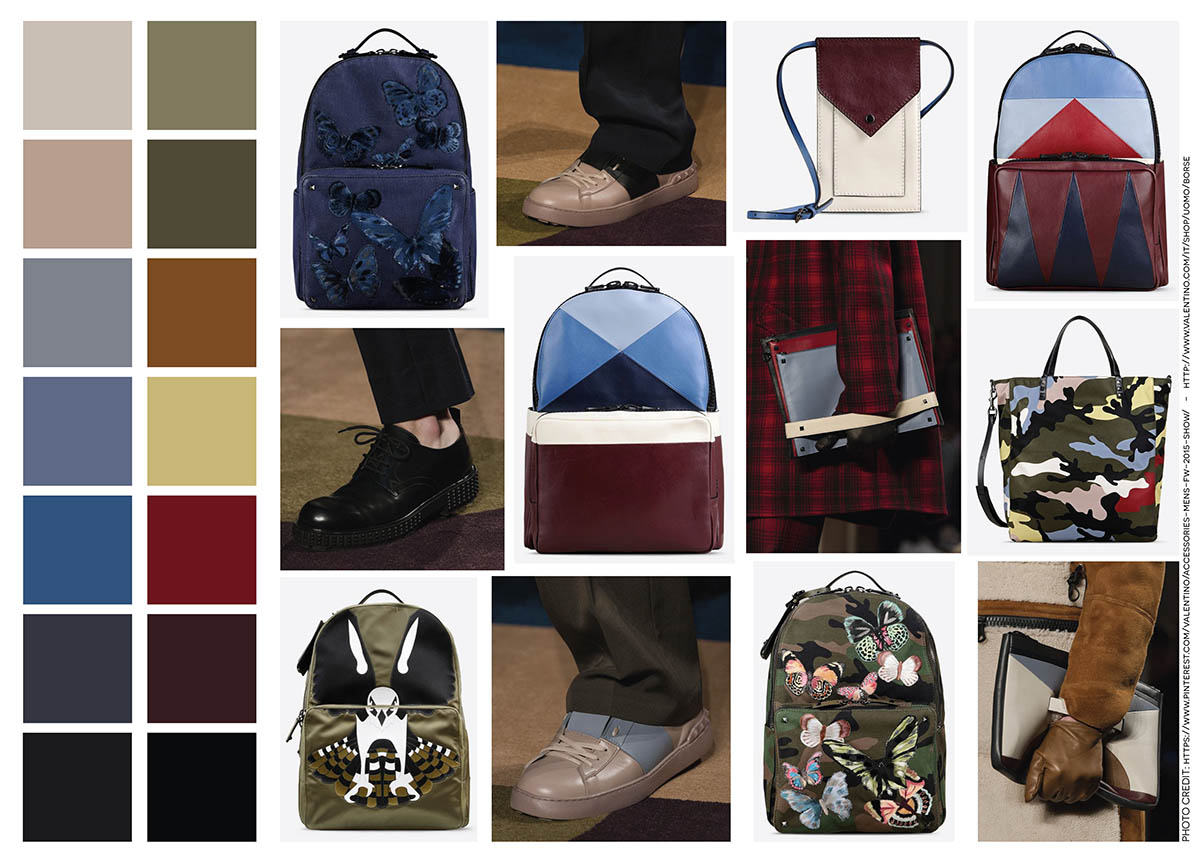 I think the final result of this collection is perfect and I think the general concept transmits a very sophisticated spirit and avant-garde. What is your opinion? What do you think the result of collaboration between Valentino and Esther Stewart? I personally was very impressed by the work of this Australian artist and now I follow her on Instagram, I love her work! What do you think of her artworks? Do you like her style? I look forward to receiving your feedbacks!
Oh, I forgot … This post doesn't have the development photo of illustration because in this case I decided to make a video, so, you should not miss the next article with the step by step of fashion illustration!
If you wish to continue reading more about menswear fall/winter 2015-16, visit: Dolce & Gabbana, Versace, Salvatore Ferragamo, Fendi and Etro.
Have a nice day!!!
P.S./I would be very grateful if you help me to share this article on Twitter or Facebook – (or even a simple click in like). This would be the best way to repay my time and effort dedicated to the research, writing and graphics of the post. Thank you! 🙂