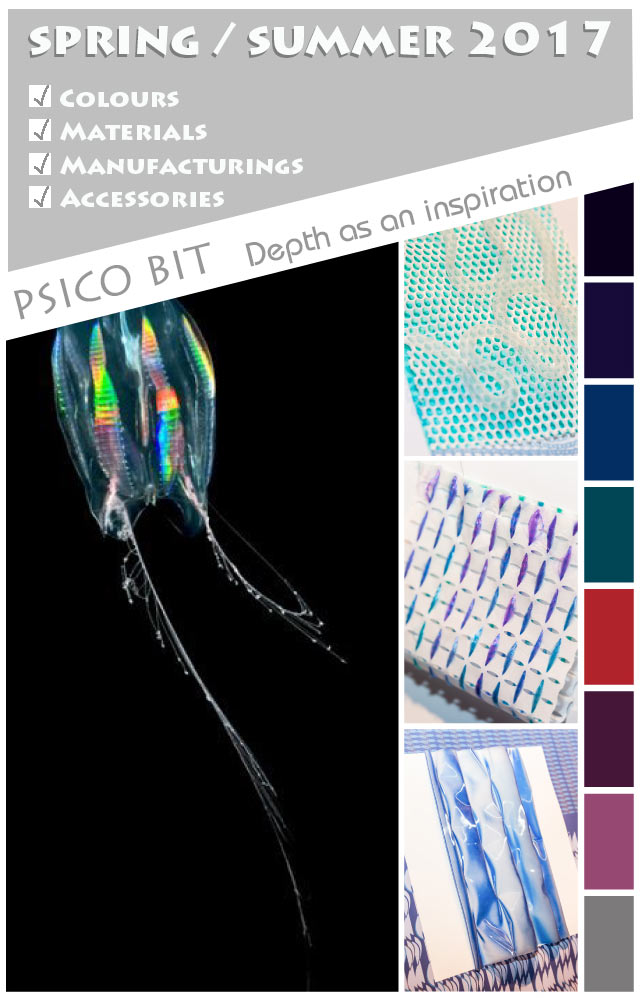 Creado el March 11, 2016 por Paola Castillo
Textile trends 2017: Moodboards with Fabrics and Accessories (First Part)
In this post you will find a full rundown on textile trends 2017 its about colors, materials, accessories and manufacturings.
Today we talk about the first theme of the textile trends 2017 that was presented in Milano Unica (the best Italian trade fair for textiles). The mega trends names are: ABISSI, NATURA E ARTIFICIO, AFRICA PUNK and PSYCHO BIT. These four themes can coexist in a unique complex interpretation or can go on separately in order to fulfil both of creative and business needs.
TEXTILE TRENDS 2017
The first theme is ABISSI: Depth as an inspiration. In this place everything floats; nothing is motionless in the deep sea populated by animals and plants of evocative consistency and magical colors.
We are in a physical and mental abyssal place, of search for inner self and of creative loneliness. Everything here is extraordinary, imaginative and poetic.
COLORS:
The protagonist of the underwater world is blue in its different shades and hues, BALTIC, ASTER and NAUTICAL BLUE follow one another in waves of colors, cut by coral, iridescences of purple and hues of pink.
The color range develops around spot colors, upon which shiny layers have been overlapped to exalt abyssal nuances.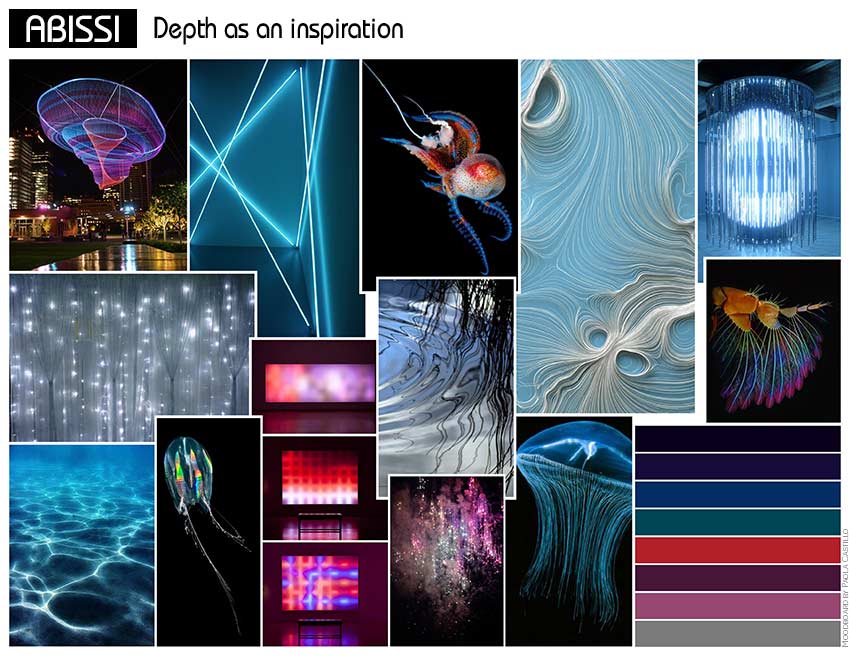 MATERIALS:
Plissé is shiny, uneven or presented in gauze to recall abyssal currents and tiny water ripples.
Fringes, made of iridescent raffia, are reminiscent of the luminous filaments of underwater creatures, while shiny elements and plastics, alternating with natural materials recall the shades of night, the Queen of the abyss.
In the same way, both the ultralight chiffon and knitted fur fringes flutters become a quotation from jellyfish movements.
And if jersey is shiny, laminated and brightly reinforced, as are the aquatic structures of the abyssal vegetation, faded prints are a true plunge into the underwater immensity.
The shirt collection has a new identity: more imaginative, with plays of stripes and shaded, luminescent patterns.
Mesh inspires a new vision of technical overlappings on fluid materials.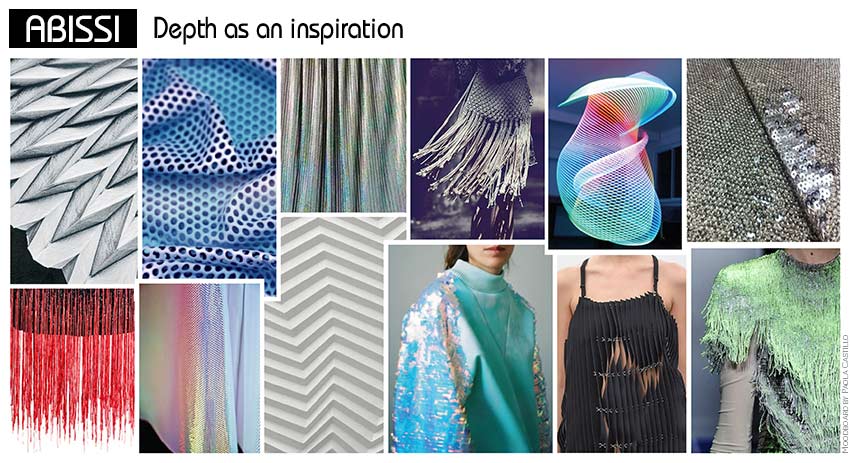 ACCESSORIES:
Applications and buttons are quite symbolic in their oversize edition and are covered with filaments, cuts and iridescence.
Transparent zips become details.
Ribbons and trimmings wear shimmering lights and filaments, obtained by plastic and laminations.
Cylindrical thread is an element used both as an accessory and an application on fabric.
Labels and packaging acquire a more valued identity, thanks to new materials, plastics and silicones overlapped to printing.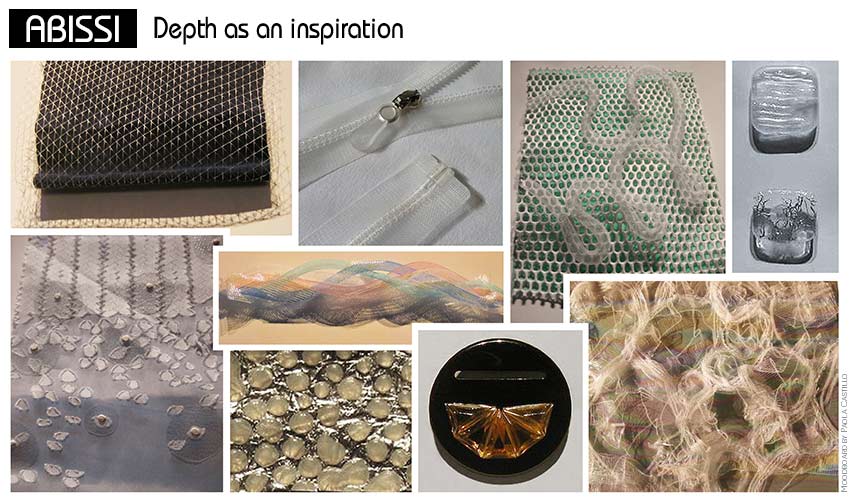 MANUFACTURINGS:
Nocturnal color silicones with neon effects become a development factor for printing.
Reflecting drop-shaped plastics are overlapped with shaded silk, while irregular patterned jacquard is embellished by lurex.
Overlapping is the stylistic code of this season: iridescent layers, pleated and ultramodern, alternate with craftsmanship, to form a skin effect of fish scales rich in optical nuances.
The use of irregular and shaded yarns is very important as it creates wavy patterns that are also inspiration for tulle.
Applications have irregular marine forms and recycled materials include sponge cloth, mesh and rough knits, which are embellished by coatings and lacquer.
Embroideries are also very luxurious and are worked with Swarovski crystals, transparent macro sequins on devoré that recall fish scales.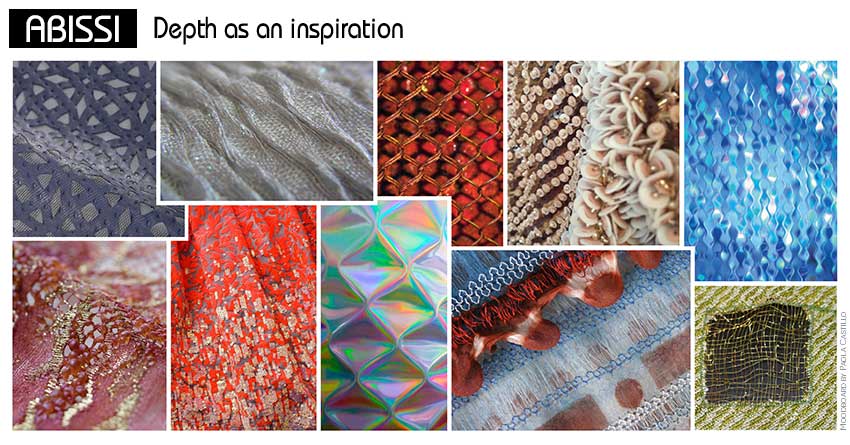 We finished with this first theme dedicated to textile trends 2017. Personally, I found it full of new and innovative ideas that can be applied to apparel and accessories.
What do you think about this inspiration theme? Did you like this article? I hope you find this post interesting and, above all, useful. Please let me know your thoughts and opinions 😉
To continue reading the second trend theme you can go to NATURA E ARTIFICIO: A mosaic of real and artificial geometric landscapes.
Thank you for reading.
PS/ If you like this article, please share.
Salva
Salva
Salva
Salva
Salva
Salva
Salva
Salva
Salva
Salva
Salva
Salva
Salva
Salva